Convert C to Flow Charting (C2Flow Charting,CtoFlow Charting)

Visual Browser for C/C++ is a C/C++ Code Browser integrating program code editor,analyzer and documentation generator with code flowcharting and visualization. It can help programmers to browse,edit,document and understand source code with built-in analysis for C/C++ program.It also can be used to visualize and flowchart code.It now supports C,C++,VC++(Visual C++ .NET).
Using this tool, you can C to Flowcharting, C to Flowchart, C to Flow Charting, C++ to Flow Chart, C++ to RTF.
C/C++ class browser
Display code in flowchart of Microsoft Visio
Export code flow chart to Microsoft Visio
Display programming flowchart of edited code
Synchronization between flowchart and source code in editor
Unlimited programming flowchart expand levels
Syntax highlighting for Source code
Export code flow chart as Bitmap
Two display modes of programming flowchart
Export code as RTF or HTML
Directly Code Print
C++, VC++(Visual C++),C to Flow chart ,Flowcharting
Relative Keywords:c sharp to flow chart c sharp to flow charting c sharp to flowchart c sharp to flowcharting c sharp to htm c sharp to flow chart c sharp to flow charting c to flow chart c to flow charting c++ to flow chart c sharp to flow charting c to flow charting c++ to flow charting code to flow charting source code to flow charting More Popular Keywords ...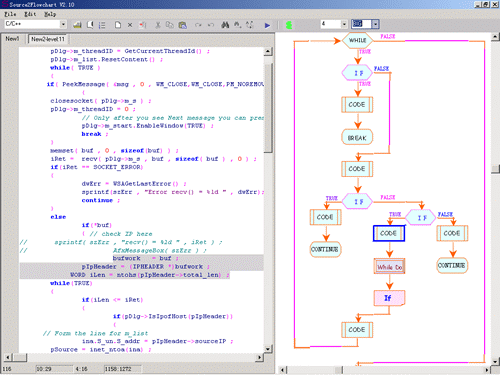 Win9x/NT/2000/ME/XP/2003
Pentium class processor with 32 MB of RAM
256-color display adaptor
5 MB free disk space
Internet Explorer 4.0 or later
800x600 display
Word to PDF
Word to PDF Converter, batch convert word to PDF files easily and quickly!

Advanced Image Viewer and Converter
a powerful image viewer, converter and manipulation tool. It supports more than 50 popular raster, vector and animated image formats. 
ABC Amber PDF Converter
Allows you to convert PDF to any document format (HTML, RTF, TXT Ansi, TXT Unicode, DOC, MCW, WPS, SAM, RFT, WS4, WS7, WRI, etc.) easily and quickly.
Batch Image Converter
convert batches of graphic files from one format to another.(BMP, DIB, EMF, GIF, ICB, ICO, JPG, JPEG, PBM, PCD, PCX, PGM, PNG, PPM, PSD, PSP, RLE, SGI, TGA, TIF, TIFF, VDA, VST, WBMP, WMF.)
PDFcamp Pro(pdf writer)
converts any type of printable Windows document, including DOC, XLS, PPT, TXT and even HTML, to a universally accepted PDF file with the click of a button
DVD Ripper Copy Pro
DVD Ripper Copy Pro is the easiest way to copy DVD's.