Convert text to html (text2html,texttohtml)

| | |
| --- | --- |
| BCL Magellan V6.5 | |
BCL Magellan converts any printable Windows document, including PDF, DOC, XLS, WordPerfect, and PPT, to HTML with the highest possible accuracy.
The layout is always preserved, so you can create seamless HTML web publishing workflows used to create the original document. Navigate any document online as HTML. Search, Zoom, or Print documents without any browser plug-ins. Automatic Thumbnail creation and FTP upload.
"We used BCL Magellan to publish our Grand View College course catalog in HTML. Students are now able to quickly browse through the entire document online without having to download anything. It has saved us so much time!"
Kelly Daniel Coordinator of New Media Grand View College
Using this tool, you can convert rtf to html, text to htm, text to html, WordPerfect to htm, WordPerfect to html.
Convert any document to HTML Supports most Windows documents. This includes file formats such as:PDF, DOC, XLS, PPT, RTF, TXT
High quality HTML output Generates an extremely accurate HTML representation of the original document. Text, tables and graphics are faithfully reproduced in HTML, making any document available over the web!
Easy to use Documents to HTML using any of these methods: Right-click a file and select "Print to HTML" Select the "BCL Magellan6" printer from within any application and print to HTML Open the Magellan application, select the source file and HTML output directory, and click convert
Browser Compatibility Generates HTML output using both style sheets and layers technology, so that 99% of all web browsers can display the generated HTML files.
Navigation Styles Lets you select from several different navigation styles. Include the Page Index, Bookmarks, and Navigation Bar in the HTML output.
Relative Keywords:text to htm text to html excel to text pdf to text text to pdf text to html txt to html xls to html excel to html wk1 to html More Popular Keywords ...
| | |
| --- | --- |
| | 1.Select a document to convert, and specify a Project folder and the name of the Project. The HTML is automatically generated in the Project folder. 2.When an HTML project is available in the specified folder, this tab will be available. Here you can change the HTML Project's features, like print, search, zoom, etc. 3.Click on the preview button to view the changes you just made to the Project. 4.To view the files inside the Project folder, click on the Open button. 5.If you understand Javascript, you can directly modify the Project's HTML features in notepad. 6.You can upload it to your production server via FTP. 7.To modify the HTML features of a project at any time |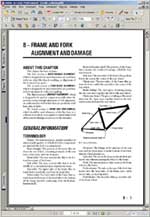 Download Original PDF (353KB)
Win9x/WinNT/Win2000/WinME
10 MB free harddisk space
Netscape Navigator 4.04 or Internet Explorer 4.0, or higher
Convert PDF to WORD
PDF to WORD, convert PDF to WORD online easily and quickly!

ABC Amber PDF Converter
Allows you to convert PDF to any document format (HTML, RTF, TXT Ansi, TXT Unicode, DOC, MCW, WPS, SAM, RFT, WS4, WS7, WRI, etc.) easily and quickly.
PDFcamp Pro(pdf writer)
converts any type of printable Windows document, including DOC, XLS, PPT, TXT and even HTML, to a universally accepted PDF file with the click of a button
XML Converter Professional Edition
Using the Professional Edition you will be able to Convert to XML from Excel, Oracle, mdb, doc document or text file strictly from your own application, with no user interface in batch mode.
ABC Amber PowerPoint Converter
Converts your PowerPoint presentations to any document format (PDF, CHM, HTML, RTF, HLP, DOC, MCW, WPS, SAM, RFT, WS4, WS7, WRI, etc.) easily and quickly. supports a batch conversion, a command line.
ABC Amber Text Converter
The award-winning, powerful batch tool to convert documents to PDF, HTML, CHM, RTF, HLP, TXT (ANSI and Unicode), DOC, XLS, MCW, WRI, WPD, WK4, WPS, SAM, RFT, WSD, PWI, PSW, PWD, and more!